Adjustable Genoa Lead Cars on Voyager #11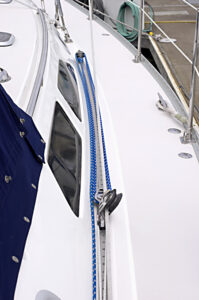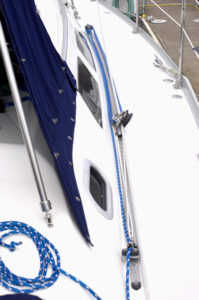 This is the E-Z Glide (G-3) Adjustable Genoa Car System by Garhauer Marine shown with the optional swivel cam cleat car. The lead cars are ball bearings, slide on to your exisiting 11/4″ track and only take a few minutes to install with no addtional holes in the boat. An additional feature is that the new cars have ball bearing sheaves as opposed to the sleeved old ones I had. I used 80′ of 3/8″ line per side and about 8′ of 5/6″ bunji cord per side fastened with hog rings.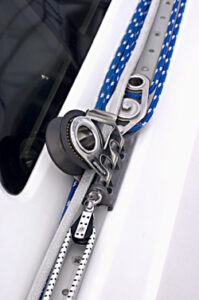 This shows the optional cam cleat and both ends of the 5/16″ bungie held on to the cam cleat car with hog rings. The bungie starts on the cam car goes up through a small block I added to the lead car and back again to the cam car. By using the bungie, the lead car won't move forward when there is no load on it and result in a mess of loose lines on the deck from the 4 to 1 purchase control line.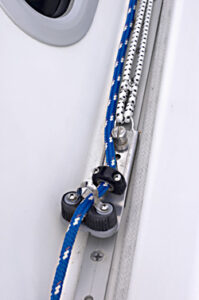 This is the stationary double block up forward with a fiddle where you attach your control line. I used a bowline, a splice would be prettier but I don't seem to have much luck in splicing this line, and this works fine.