Revised Radar Screen & Chartplotter Mount
Supplied by Bill Martinelli, Voyager #11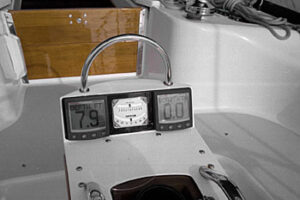 Our wind indicator was removed from the front of the table and placed back by the radar along with our Master View ST80, hence the inclinometer filling the space.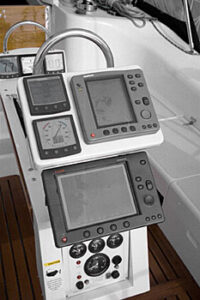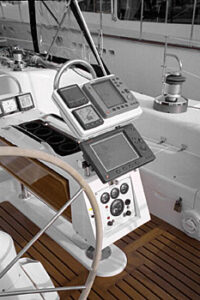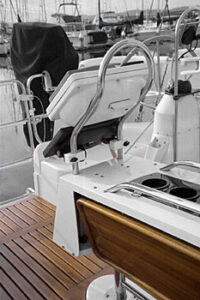 The previous owner replaced the factory swingup radar mount with a NavPod unit and what I believe is an Edson tube mount. I moved the monochrome chart plotter that was originally installed at the navigation table down below and placed it below the radar using parts of the original aluminum mount and a couple of life ring box mounts.
The small white object on the back of the pod is a bimini light I purchased from West Marine to illuminate the cockpit table. I placed some aluminum tape inside the upper area of the light to block the light from going out the top so it aims down at the table area. I also installed two of these same units on our dodger rails to light the cockpit area. These lights are 12 volts and need to be wired into the battery system.
We have a newer configuration for our Raymarine E120 MFD that will be detailed on another page on this site.

These two photos below are of the Radar Screen Mount on Seventh Heaven