LCD TV mount that looks like it came from the factory
Supplied by Bill Martinelli, Voyager #11
I was tired of not being able to read tiny subtitles on my factory installed 13″ CRT television. I had seen a few other installations on C470s but didn't care for them so I came up with the following setup. The TV is a Sharp Aquos 26″ LCD.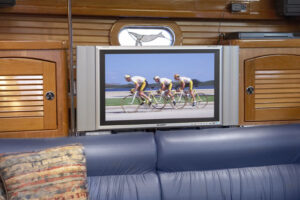 The television swings to the side so someone sitting on the settee can view it. It also swings to almost 90 degrees across the settee. This is really cool if you are into playing video games. It also swings to almost 90 degrees to face the navigation table (we can display our Raymarine E120 data from the cockpit to this television).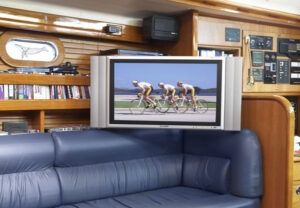 I made the mount out of 1″ stainless steel tubing and plate. The friction mounts are polished aluminum. The friction mounts allow you to set the pivoting resistance and the back handles allow you to lock the unit in place. With this mount you get the TV where it belongs and still have complete access to your bookcase behind it.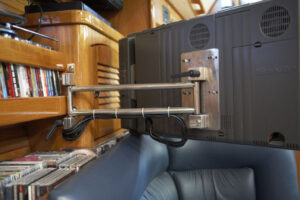 The mount is mounted to the right storage cabinet with the use of four bolts. The photo below shows the space where the old CRT TV used to be, it is now a bookcase for Voyager's documents and manuals.