Supplied by Bill Martinelli Voyager #11

This is the tool box I use to store our Yanmar engine spares in, it measures 16″ long x 8 1/2″ deep x 10″ high.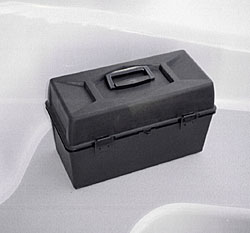 It contains 2 Racor filter elements, 1 Yanmar fuel filter, 1 oil filter, 1 spare remote starter relay, 1 raw water pump impeller, and spare V belt. Also included is the small wrench set that Yanmar supplies, my wrenches and extra sparkplug for my outboard motor and right now a lot of empty space for other essentials.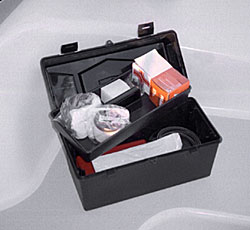 All of the above used to be stored under one of the settees and took up the space of about a case of beer!

View looking into the inside of companionway steps from out in the cockpit.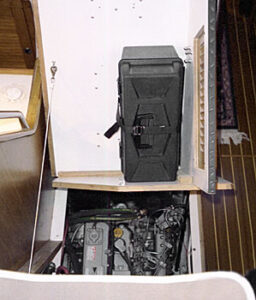 To mount the box under the companionway steps all you need is a bracket and strap tie down set for an outboard fuel tank, cost about $5! This is pointed out by the blue arrow, the red arrow denotes a short piece of aluminum angle I added to keep the box from ever moving sideways.